VR-5000 Signal Capture and Analysis 1.3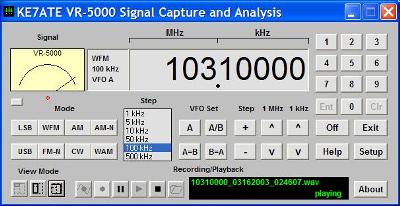 For Windows XP
Many amatuer radio operators and shortwave listeners are finding the Yaesu VR-5000 wide band receiver to be one of the most affordable choices for pursuing a variety of listening activities. Although, this terrific receiver is no longer available from the manufacturer, this receiver is in high demand and is still widely available from third parties, many auction sites, individual sellers.
The versatility of this software, used in conjunction with this receiver, gives users a powerful tool to explore the world of radio monitoring and shortwave listening. Please read the PDF Brochure for more information about my VR-5000 Signal Capture and Analysis Software.
Click Here to Download the PDF Brochure
Please Email
ke7ate@yahoo.com
and order your licensed copy for $30.00 US today!
Keep Reading If you Want to Know More
The VR-5000 receiver has been around for quite some time now, but never really had software that could connect it to the computer and do the sorts of things amatuer radio operators, radio monitors and shortwave listeners do during their operating activities. In fact, there are several things users complain about after they have used this receiver for a while. Things, like small buttons, too small of a main tuning knob, difficult to read display and more.
Many of these things can be resolved by using the right software and for many years now, I have been unable to find software that made using the VR-5000 easier and more convienent. So, I created my own software that made the receiver easier and more fun to use.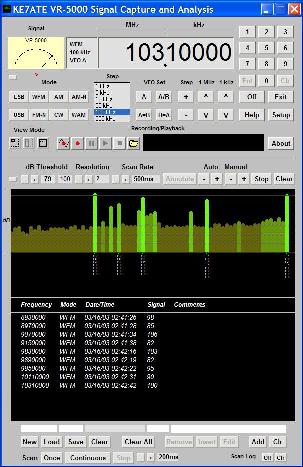 The basic concept of my software was to create a 'Radio Desktop' for users who want to maximize the kind of information they could store and display all from the computer and audio connection with the receiver. The other part of this concept was to organize the information and present it to the user as clearly as possible. This is what my VR-5000 software brings to the user with full color and in real time displays.
Other features include:
• Advanced configuration settings

• Spectrum Waterfall Display

• Auto-Logging of scanned frequencies

• Three different viewing modes to suit your listening needs.
Audio recording and playback is very important in radio monitoring. This software gives you the capability to record real-time audio and playback with a variety of sample rates.
Want more out of your Yaesu VR-5000 Wideband Receiver? Give your VR-5000 Reciever a new face.
Welcome to the world of the Radio Desktop!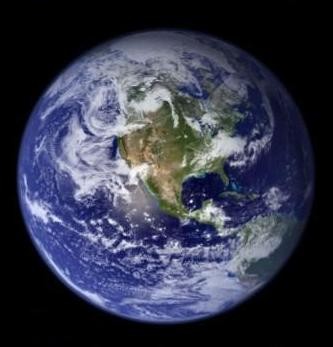 ____________
This page was last updated: June 20, 2011
Copyright 2011, Kenneth Stevens, KE7ATE

ke7ate@yahoo.com